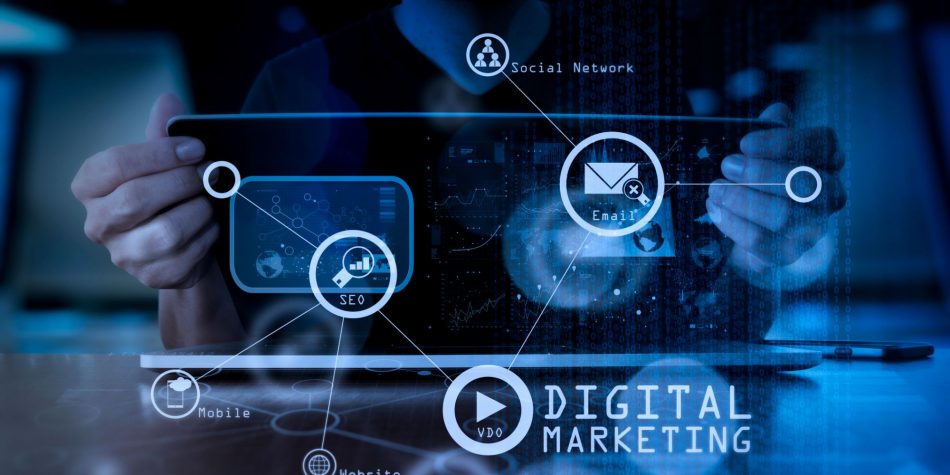 If you still have not started doing digital marketing, consider doing it as soon as possible.
With an umpteen number of businesses striving to attain a top position in the leaderboard, today's market is continuing to witness tight competition. Businesses are making use of everything at their disposal to give a good fight in the market and stand out from the competitors. One technique the majority of them are making use of is digital marketing without a doubt.
With methods like Search engine optimization (SEO), Social media marketing (SMM), Email marketing, and more, businesses have found an easy pathway to reach their potential customers.
The pioneer in advertising, Mr. Leo Burnett once said:
"Help your customers and you help your business."
This is what happens in digital marketing. You help your customers find the right product or service that suits their needs and simultaneously you help your business grow.
Digital marketing was an option for businesses to enhance their exposure but today, it has become a must to stay afloat in the competition as all are actively investing in the same. Therefore, it's time to seriously consider integrating digital marketing into your marketing strategy. If you do a small research, you could find a lot of digital marketing agency which can help you.
Are you still having doubts on whether you should go for Digital marketing?
Keep on reading
Different Techniques in Digital Marketing
Before we hop into the importance of digital marketing, let's have a brief look at some of the common digital marketing techniques to give you an outline of what digital marketing is.
Search Engine Optimization (SEO)
Be it for information or researching products and services, the majority of online users use search engines like Google, Bing, etc. SEO's purpose is to display your website on the search engine result page when a user carries out a search in this manner.
For example,
Imagine you are a digital marketing agency and a potential customer searches for the best digital marketing agencies in your city on Google and your website pops on the top of search results.
This is what happens when you do Search engine optimization. Simply put, if you want prospects to find you online easily, consider doing SEO.
Social Media Marketing (SMM)
Social media marketing is a cost-effective marketing technique widely leveraged by many brands today. SMM involves uploading engaging content on a regular basis and running laser-targeted campaigns with specific goals like generating leads, improving engagements, and enhancing reach. In today's world where there are numerous Social media users, SMM can help your business be more recognized.
SMM is commonly carried out on platforms like Facebook, Instagram, Twitter, Snapchat, and Youtube. If you have a concrete strategy and do it the right way, SMM can be lucrative for your business. For best results, it would be better to devise the strategy with the help of a social media marketing agency.
Search Engine Marketing (SEM)
In this highly competitive marketplace, Search engine marketing (SEM) enables you to uplift your business efficiently.
Search Engine Marketing is simply a paid marketing technique through which a business can display its ads in search engines for better visibility and recognition. If you are ready to spend, then you can indeed reap benefits by doing SEM. In other words, you get what you pay for.
Another important thing about SEM is that it brings compelling results in a short period of time when compared to SEO, which is organic. This makes Search engine marketing a vital digital marketing technique.
Content Marketing
Bill Gates once said "Content is King" in one of the essays he wrote in the 1990s. This particular statement is still relevant. What he told then was that content will be one of the pillars of marketing in the future. Well, he got it right!
Content marketing is the method through which relevant, engaging and useful content is delivered as videos, social media posters, blogs, infographics, and more. It's one of the beneficial marketing techniques in the digital marketing sphere. In fact, when you compare businesses that do content marketing with those that don't, the latter have 6 times better conversion rate on average as per Demand Metric.
Yes, content is continuing to be the king!
Email marketing
Surprisingly, email marketing services are still extensively opted by many businesses amidst the rise of the consumption of digital content.
To define Email marketing, it's simply the technique of sending emails of your products, service, or latest offers to a large number of people. This means that you could let your customers and prospects be aware of your new offer or products with just a few clicks.
Emails are something we receive on a daily basis and most of ours inbox get flooded with Emails from various brands. And, if the email is good enough to catch our attention, we surely access it. This is exactly the action Email marketers anticipate from a customer or prospect.
And yes, emails are alive contrary to what you thought and Email marketing still works. The reason is that almost 4 billion people use email today and this number is expected to rise to 4.6 billion within 4 years according to Statista.
So, if you plan well and do it the right way, your email marketing campaign will pan out well.
SMS Marketing
Just like Email marketing, SMS marketing is also a fruitful marketing technique. So, if you thought SMS marketing is no longer helpful, you got it wrong.
The goal of SMS marketing and Email marketing is almost alike – to make a wider audience aware of your product, service, or offers. But why is SMS marketing still used by businesses?
Well, according to a report by Bankmycell, there are 3.8 billion smartphone users in the world as of 2021. Now, if we add the feature phone users, the total number of mobile users will mount to 4.88 billion! That is roughly 62% of the world's population.
Another study, by MobileMonkey, shows that SMS messages boast an open rate of 98%.
Can you get a better medium to reach out to your customers and prospects?
However, the idea of SMS marketing is not just sending texts to as many people as you can. You should find the right contacts and the message content should be catchy, short, and to the point. The receiver should be urged to open the message and take necessary action.
Why Digital Marketing is Important in 2021
To show how vital is digital marketing for your business in 2021 and after, we are laying out some important points below.
1. Online Users are Continuing to Spike
This may be an obvious statement because the digital world is evolving with each passing year and people are urged to go in tandem with it.
However, the number of online users has drastically surged when compared to a few years back.
And, it's an important factor of businesses adopting digital marketing.
A report by Statista in 2020 forecasted that the total number of global internet users will reach 4.7 billion and yes, it has reached that figure. To be precise, it has mounted to 4.72 billion as of April 2021 according to a study by Datareportal. That is roughly 60% of the world's population!
And, the figure is predicted to reach 5.3 billion by 2023!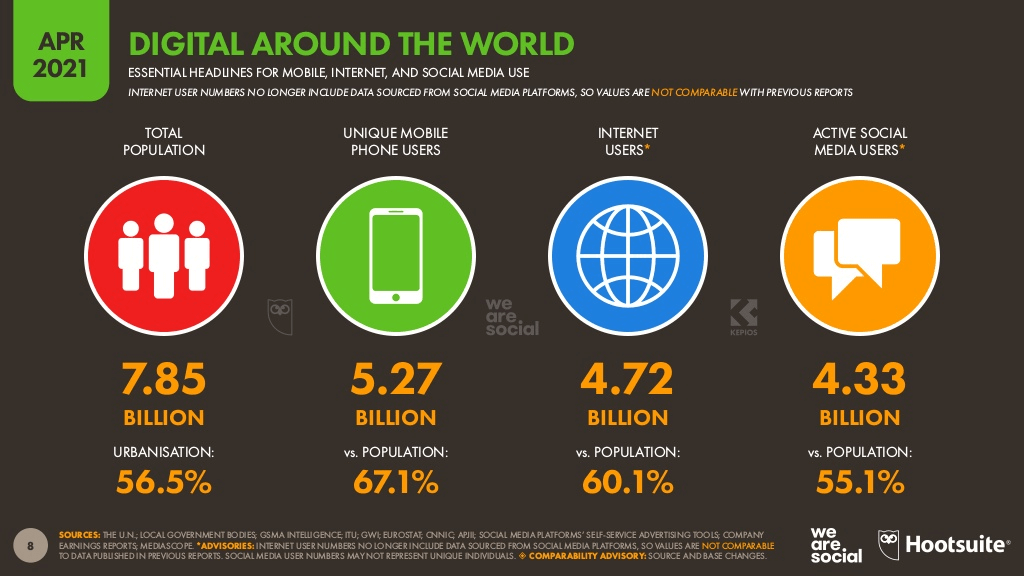 These users are also spending several hours per day on the internet, making Ads and content more likely to be viewed. As per the aforementioned study by Datareportal, internet users aged between 16-64 spend nearly 7 hours a day on average on the internet.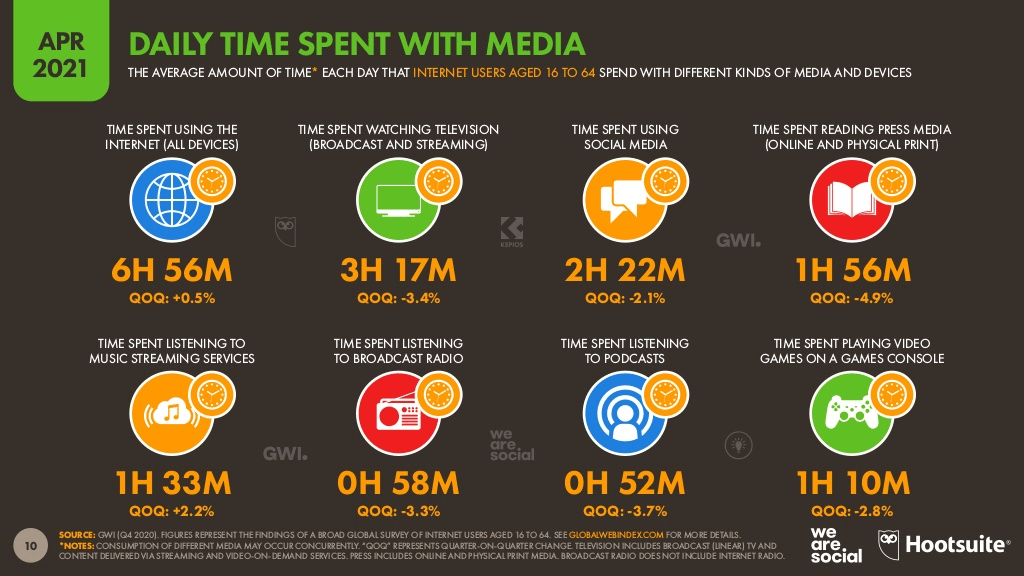 More audience means more chance to enhance your reach and recognition which ultimately pave the way for your business to grow. This drastic rise in the number of online users emphasizes that the scope of digital marketing is huge in 2021 and the coming years.
2. People are Searching Online for Everything
Today's era is witnessing the dominance of the Internet. People are relying on the Internet for purposes from connecting with friends to finding information and buying products.
Is your website or E-commerce store not flourishing? It might be because customers can't find you online. Well, you have to do what it takes to improve your online visibility because the reliance on search engines to find brands is unreal.
Datareportal states that 98% of the internet users used a search engine in March 2021 and 52.7% users use the same to carry out brand research.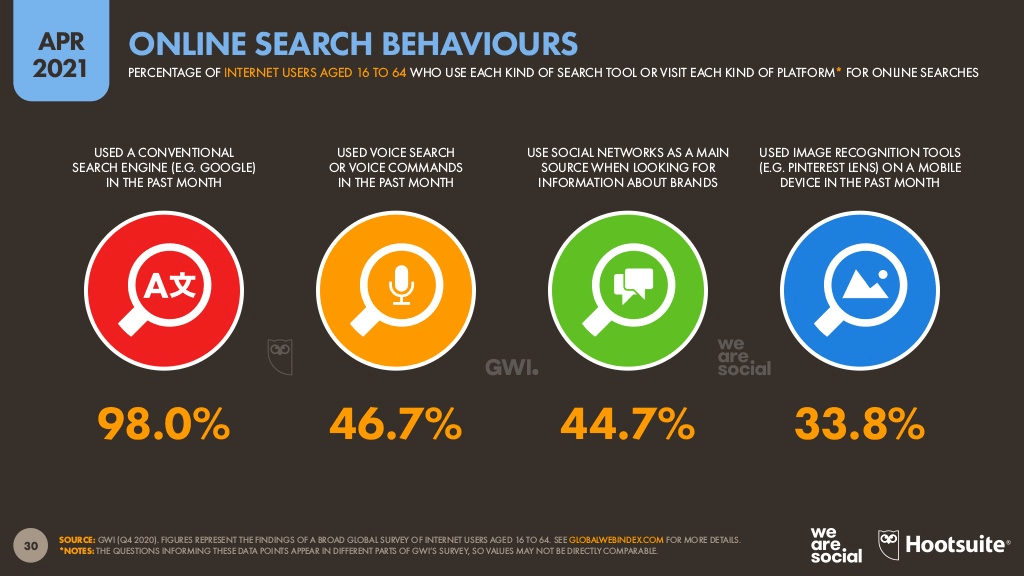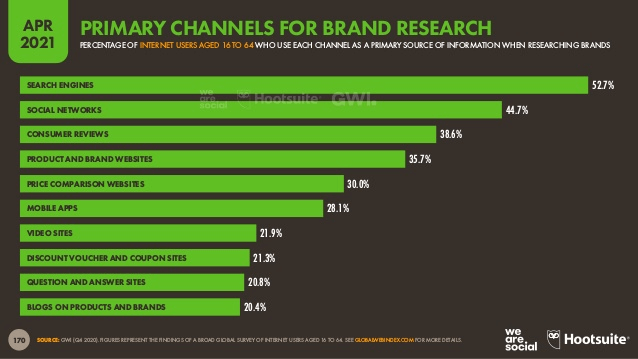 And, while 63.4% of online users use the internet to find information, 46.4% of users leverage the internet to research products and services.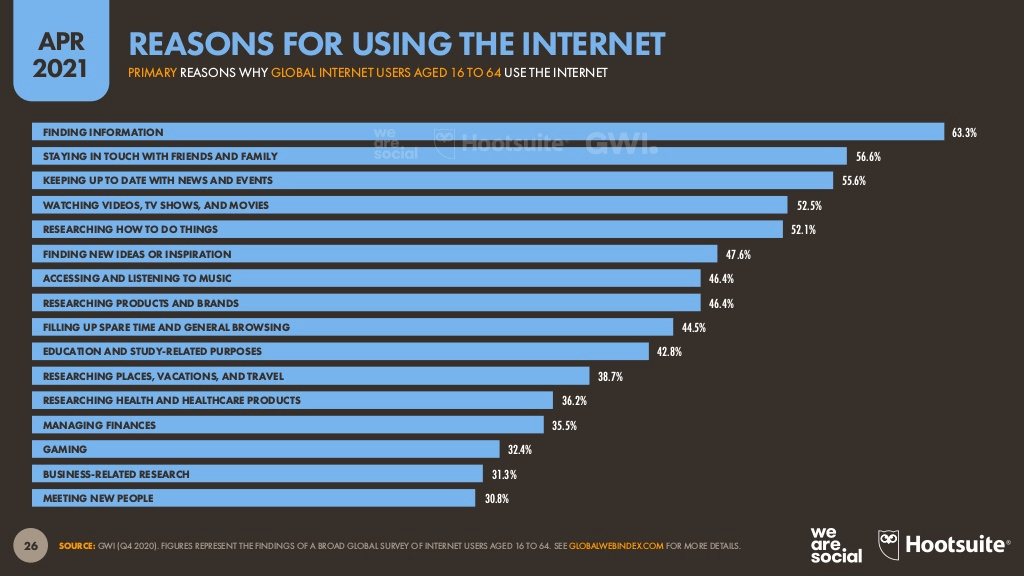 From the aforementioned statistics, it's clear that prospects are often on the search for brands. Therefore, start doing SEO and SMM activities to make yourself easily findable online for them or they will opt for your competitors.
Make sure your marketing strategies are good enough to get you ranked on the first page of search engine result pages because 75% of users do not go beyond the first result page as per Hubspot.
3. Audience's Love for Digital Content is Growing
As we mentioned earlier, content remains as the king.
The audience loves content that is engaging, informative, and relevant. Every day they scroll through their feeds of social media accounts and browse on YouTube and Google expecting to find quality content.
In fact, out of the internet users, 77% of them read blogs regularly according to OptinMonster. As in videos, 55% of the online users watch them every day. These interesting stats indicate that if you upload content, they're likely to be consumed by the audience. And, if the content boasts quality and you have a well-thought-out strategy, then you can surely build brand awareness and drive more leads.
The contents can be in any form like blogs, videos, posters, etc provided it should be able to catch the eye of the audience and engage them. It can be shared via your website or social media accounts.
Social media platforms would be a great choice because there are almost 4.33 billion social media users out there as of April 2021.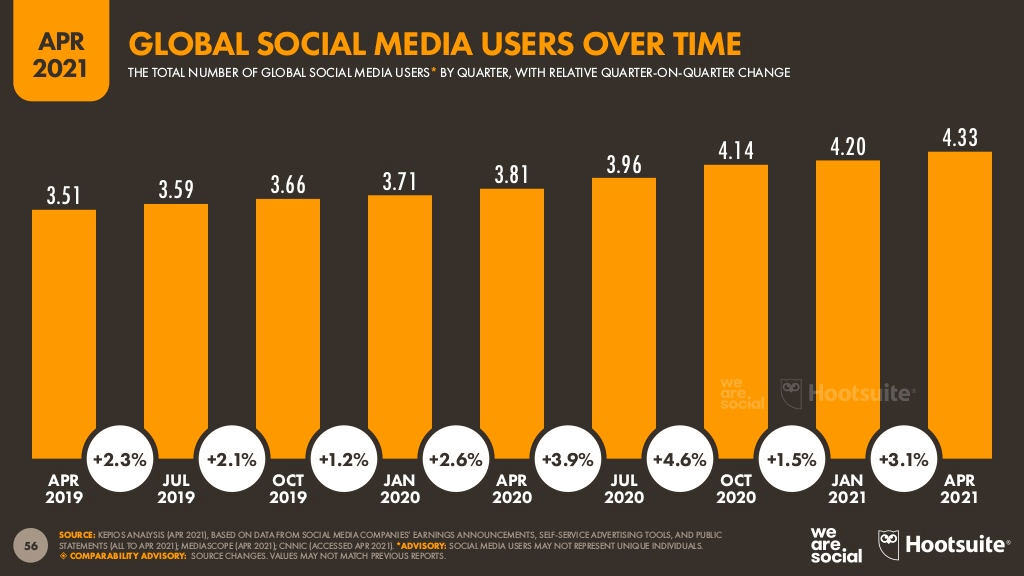 If you are still doubtful whether content marketing drives results, here is another stat.
A survey carried out by Semrush shows that 84% of the companies have a content marketing strategy.
Furthermore, 50% of the companies found content marketing more successful when compared to the previous year.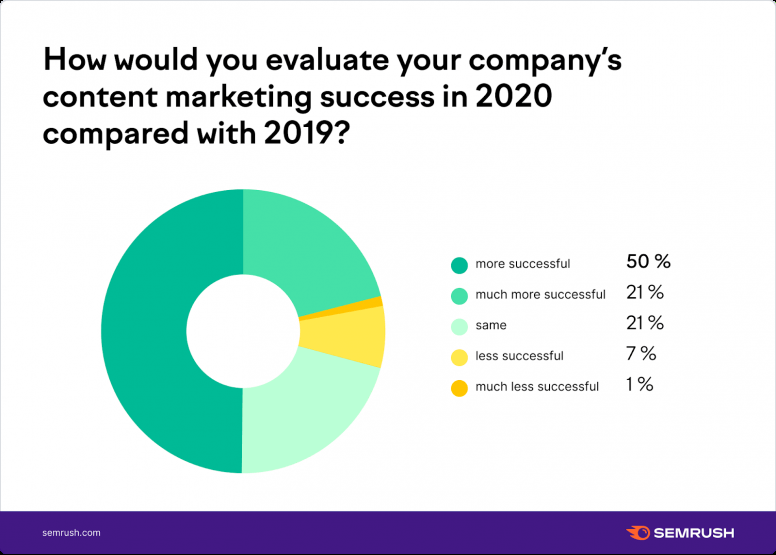 As you can see, the above infographics suggest that the stats of 2020 fare better than 2019. At this rate, 2021 is likely to witness a further increase in content marketing adoption and success.
Long story short, the audience loves content and these data indicate that digital marketing with a good content strategy could help your business enhance its online presence in this era of digital dominance. Make sure to find a good content marketing agency or content marketer with whom you can entrust the works or else all your efforts could go down the drain.
4. Mobile Usage is Rising
From teenagers to elderly people, almost everyone uses mobile phones nowadays. As mentioned earlier, approximately 62% of the populace use mobile phones.
This means that digital marketing techniques like email marketing and SMS marketing can prosper in the present era with a decent strategy.
With the rise in mobile usage, the inflow of online users to social media via mobile phones has also hiked concurrently. As per a report by Statista, there are 4.15 billion active mobile social media users and this widens the scope of social media marketing.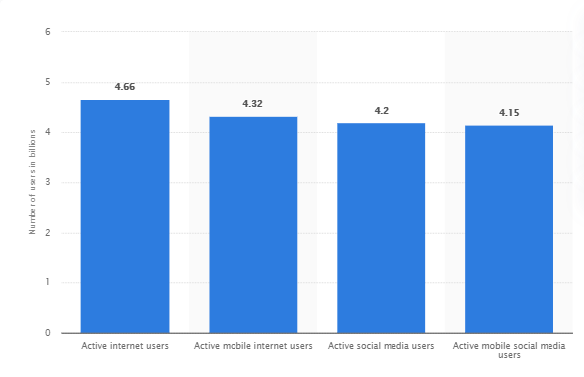 More mobile usage also means, more people are likely to visit your website through a smartphone. So, having an SEO strategy that considers mobile users would be a great way to improve your site visits, sessions, and so on.
Simply put, the rise in the usage of mobile phones has broadened the opportunities for digital marketing.
5. Businesses are Investing in Digital Marketing to Compete
Today's market is crammed with multitudinous businesses vying with the same vision – to rise to the forefront of their respective industry.
It comes as no surprise that digital marketing is one of the important techniques proactive and ambitious business owners are making use of to compete in the market. Surely you would have seen many Ads popping up on your screen while browsing or using social media.
Statistics denote that businesses are actively investing in digital marketing. Global Ad spending is consistently increasing.
A study by eMarketer stated that the global digital Ad spend will total a whopping $389 billion in 2021 and it'll further rise in the upcoming years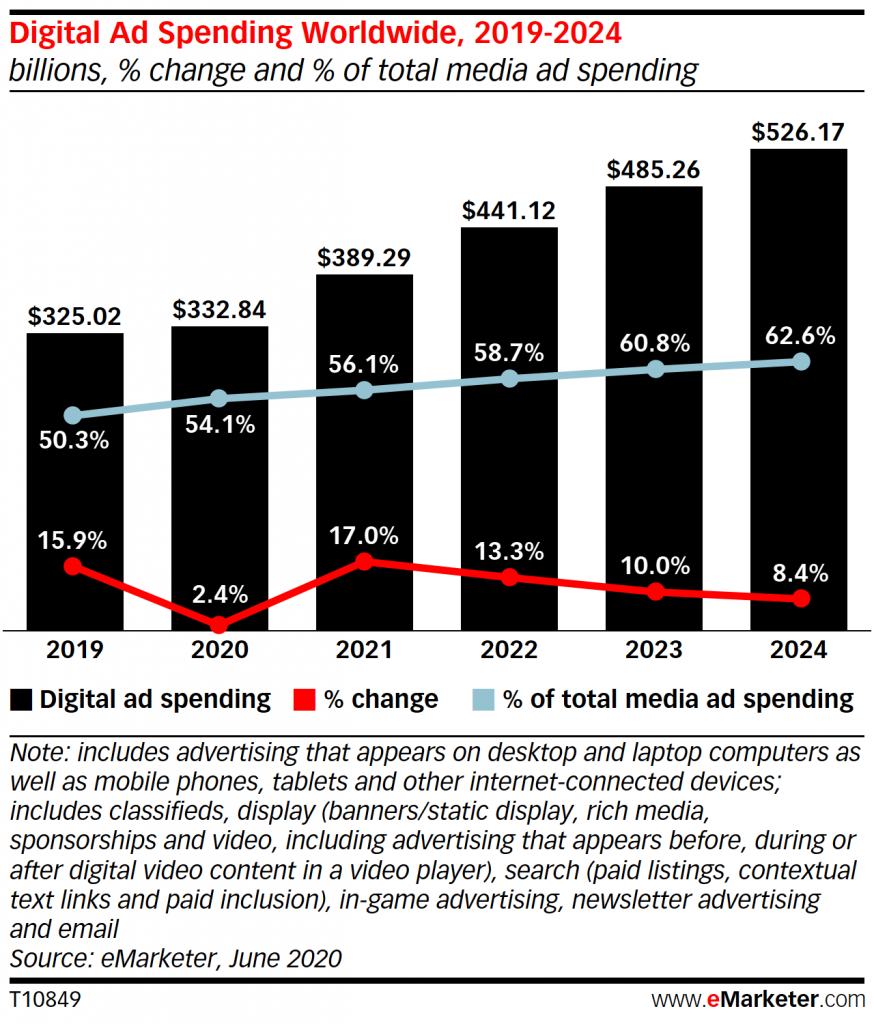 In other words, more businesses will invest in digital marketing in the forthcoming years.
Hence, it has become incumbent upon businesses that are yet to adopt digital marketing to rethink their marketing strategy in order to keep up with the competition.
Conclusion
The continual surge in internet usage, online search, demand for content, and mobile usage underlines the scope of digital marketing.

Like we stated earlier, digital marketing techniques have become a must for all businesses to stay alive in the competition since many business owners are actively investing in the same.

Do you market your business digitally? If no, we strongly recommend you to consider digital marketing, or else you are likely to drop back in the competition.

If you have a thorough understanding of your industry, competitors, and audience and a well-thought-out digital marketing strategy, you could improve your brand awareness, bring more quality leads and drive more business growth. Remember, the time is ticking. Act before your rivals get ahead of you.

Are you convinced about the importance of digital marketing in 2021 and beyond? Sign up with Mizzle and start doing it. Let us know your requirements and we'll take care of the rest.

.entry-meta